May 12, 2007 on 12:15 pm | In
Uncategorized
|
1 Comment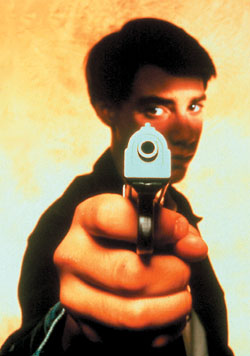 i think nearly all people would feel quite uncomfortable to have a gun pointed at them. i think it is the realization that with a single thought and twitch of their finger the gun-pointing person can kill you. just a single thought and a twitch of a finger! you can only hope that this person pointing a gun at you is a rational, responsible person with control over their thoughts and actions. most people i meet in my day to day life seem to be calm, rational and responsible most of the time. 99% of the time even. of course not everyone is so collected, we all know people that are high strung. and we also know that even responsible people have a bad day sometimes. they overslept, the dog peed their shoes, the traffic was a mess, their boss yelled at them. then they are pointing a gun at you - how well do you trust the high strung woman after she just got mud on her dress and people laughed? that teenager that just found out his girlfriend was cheating and everyone knew it? maybe for just a moment he loses it and twitches his finger? i'm sure they will both be very sorry after they calm down.
if you are thinking that this has little bearing on the world around you, think again. every single day - often for half an hour or more - millions of americans are pointing deadly weapons directly at unarmed people all around them. with just a momentary loss of calm thinking and an effortless twitch of the wrist or the ankle, these drivers kill a pedestrian or cyclist on our streets. the pedestrian or cyclist stands no better chance against a motor vehicle than they would a handgun. worse even! a motor vehicle has a 7 foot wide bullet so you can't miss the target.
the burden of responsibility for wielding a deadly weapon normally falls on the wielder. if you have a few beers and some guy makes a pass at your girl and you shoot him, you are still responsible. and if you are someone that has trouble keeping yourself under control, you shouldn't be allowed to point a deadly weapon, and perhaps it might fall on other people to help identify you as someone that can't be trusted with a deadly weapon and make sure you can't have one. i think most people understand this makes good sense for both guns and cars.
sometimes accidents happen. if you walk into a room and you see an unarmed person dead or injured on the floor and another person holding a gun, you know where to start asking questions. you also know that even if the person on the floor was a hotheaded fool that made a pass at the other guy's girl, it doesn't matter. the hothead with a deadly weapon is a danger to us all. the hothead without one is just a hothead. of course in close quarters a person without a handgun still could be dangerous. but a pedestrian and a cyclist are nearly incapable of posing a danger to a motorist encased in a 3000 pound armored box. they couldn't hurt a hair on the motorist's head except in the most outlandish scenario. like if they had a handgun.
so when you happen upon an intersection and you see a cyclist on the ground and a car next to them, you know where to start asking questions. you know that the driver is operating a deadly weapon and the cyclist or pedestrial is totally unarmed. and you know that it is a very different thing to be a hothead pointing a deadly weapon, or to just be a hothead. very very different. the life of every cyclist and pedestrian can be ended by the slightest whim of a hotheaded driver. a hotheaded cyclist or pedestrian is no more than nuisance.
sadly, just today in berkeley, and a month ago in oakland, the police didn't see it that way. neither did the media. unarmed cyclists were INTENTIONALLY struck by motor vehicles, and then blamed for it. hotheads piloting deadly weapons - who had intentionally struck or attempted to strike cyclists in full view of dozens of people - were portrayed as victims. do you want to be crossing the street with groceries and your child in front of that hotheaded driver after they just had a bad day? i don't. I WANT THAT DRIVER OFF THE STREET.
perhaps you are thinking that a cyclist or pedestrian could be at fault for getting in the way of a car. sure, traffic accidents happen a lot and any of the parties might be at fault, and this is very tragic for all involved. i'm not complaining about the driver who accidentally kills a pedestrian any more than i'm complaining about the 18-wheeler that lost control and crushed a car. but there were multiple incidents here in the last month, and i have personally witnessed others in the past, in which enraged motorists intentionally used their vehicles as deadly weapons against unarmed cyclists. those motorists pose a danger to us all, and they must be brought to justice.
Dan Goldwater
Powered by WordPress with Pool theme design by Borja Fernandez.
Entries and comments feeds. Valid XHTML and CSS. ^Top^